Our Company is managed by Mr. Ashutosh Agrawal. He has done MS from USA with seven years of working experience there in US.
We are manufacturing and exporting our wide range of woven and non woven products, Poly film and paper products under guidance of Mr. Rashmikant Agrawal, who is having rich experience of more than 30 years in this industry. We make Back Seam bags with State of Art Technology. We have capacity to make 100,000 Paper laminated woven Back Seam bags (known as Paper poly woven bags or Paper-plastic compound bag) per day. We also make Circular and Back Seam PP woven and BOPP bags, PP/PE woven and Laminated & Printed Fabrics for bags & Wrapping, PP non woven Plain Laminated and Metallic Laminated fabrics for Shopping bags, Poly Liners, Poly coated Papers Exporter in Nigeria, Ethiopia, Egypt, South Africa etc.
We are located in Heart of the Industrial City Ahmedabad, in Gujarat province, at western part of India. This city is well connected by Road, Rail, Air and Port nearby.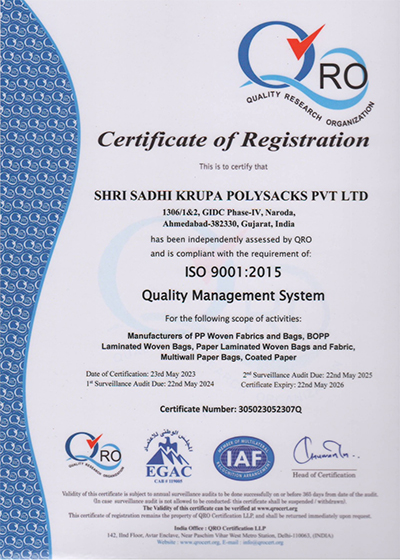 Land & Building
We have two units, one is for making woven fabrics and another is for extrusion coating, Printing, Tubing and finishing.
1) Plant & Machinery
Tape Plant
Circular Looms
Extrusion Coating Plant-Tendom
LD-LLD-HM Liner/film plant- 1000 mm wide tube
Liner cutting sealing machine
Six color Roll to Roll Flexo Printing Machine- six color, 1250 mm printing width
Tubing plant
Auto sewing machine
B.C.S – Back Cutting and Sewing Machine
Normal double/single needle sewing machines
Bag printing machine-two color
Fabric opening, sliting, rewinding machine
Fabric cutting machine Automatic
2) Lab Testing Machines/Instruments
Tensile Testing Machine
Denier/gsm testing machine
Paper GSM and BF testing Machine
RPM testing instrument
Temperature testing instrument
Filler Testing Machine
Tag: PP Woven Bag in Rajkot, PP laminated Kraft Paper Bag